LOC-COM Series
Intercom / Paging Assemblies or Kits
Factory assembled and tested intercom / paging control electronics packages are NEC 725 Compliant designed for use with a hardwired custom control panel. Use either momentary or maintained contact switches. A control panel kit is available that includes a 2.5" diameter speaker, electret microphone and volume control.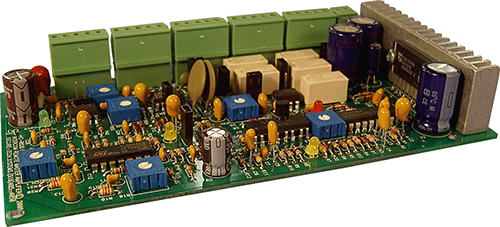 HC-0826
Intercom Amplifier
The HC-0826 is a high quality, reliable, long life intercom amplifier, for use with the HC-0644, HC-0845, and HC-0846 intercom selectors. The amplifier is suitable for the high frequency use typically found in detention facility applications and may be used with any type selector module or relays.
The inputs and outputs are connected to Phoenix type compression screw terminal plugs sized for 28 or 16 AWG stranded conductors.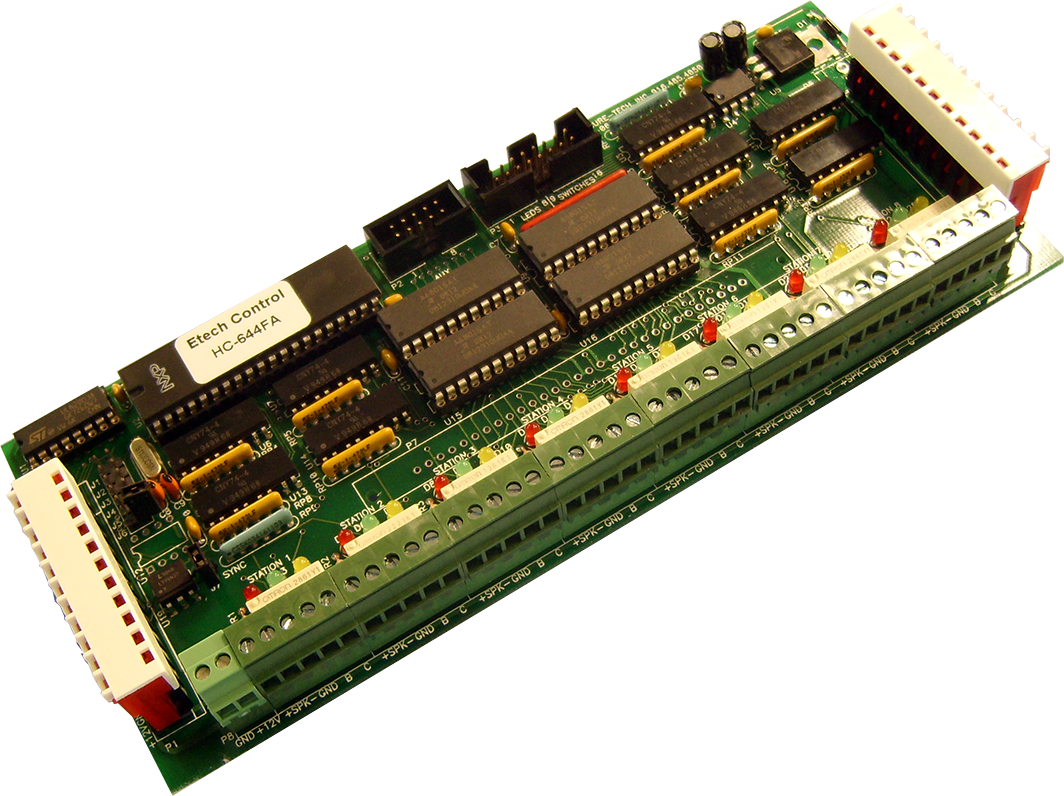 HC-0644
8 STATION INTERCOM SELECTOR-Solid State
The HC-0644 Provides the functionality for eight (hardwired) remote intercom stations. Depressing a push button on an intercom station causes call-in to flash the associated LED, and activate an audio tone at the control panel. When station is selected, the panel LED becomes steady and the tone is silenced. A CCTV camera can be selected to display on a monitor.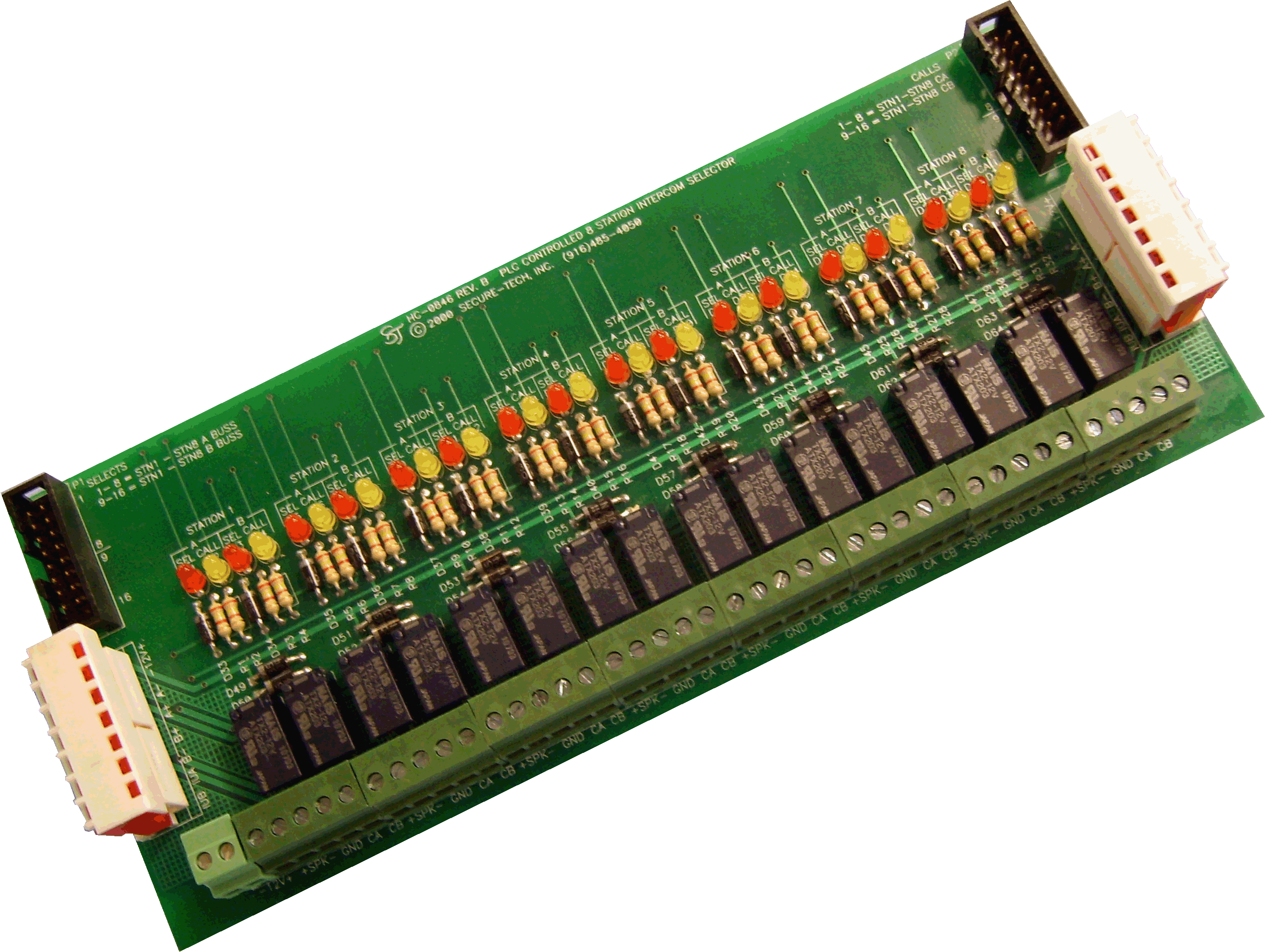 HC-0845/0846
PLC 8 STATION
INTERCOM SELECTOR
The HC-845 provides the functionality for 16 remote intercom stations, PLC or PC controlled. Panel or touchscreen indicators or display are as programmed.
The HC-0846 proves the functionality for 8 remote intercom stations, shared with a second intercom amplifier, music input or sound alarm.
HC-0856-MM
INTERCOM "Mini-Master" AMPLIFIER / CONTROLLER
• 1.5 WATT RMS OUTPUT
• LOW NOISE LEVEL
• 8 FUNCTION / ALARM INPUTS
• (1) CALL-IN / SELECT LED
• 2 RELAY OUTPUTS (2A @ 30 VDC, FORM A)
• GROUND, SUPPLY AND SHORT SHORT PROTECTED
• THERMALLY PROTECTED
• LOW STANDBY CURRENT
• MOMENTARY OR MAINTAINED CONTROLS
• SERIALLY ADDRESSABLE - RS-485 MODBUS
• TOUCHSCREEN COMPATIBLE
• STANDBY / MUTE / "ANTI-POP" PTT
• UP TO 128 MINI-MASTERS PER 4000 FT DATA LOOP
• COMPACT DESIGN - 2.75" X 4.25"
• FULLY PLUGGABLE TERMINATIONS
• MICROPHONE INPUTS
• 2 YEAR WARRANTY
HC-0654
SOUND ALARM
The HC-0654 provides audio threshold monitoring for eight intercom / paging channels.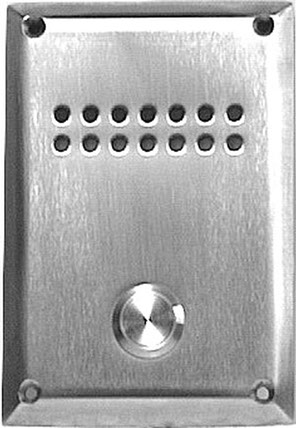 TSS-1
Tamperproof
Staff Station,
Jamb Mount
The TSS-1 intercom station is designed for use in the highest security areas. Its reduced width (3.5") makes it suited for installation in security hollow metal door and / or window frames.
TSS-2
Tamperproof
Staff Station,
2 Device Ring Mount
The TSS-2 intercom station is designed for use in the highest security areas. It is suited for both interior and exterior wall mount applications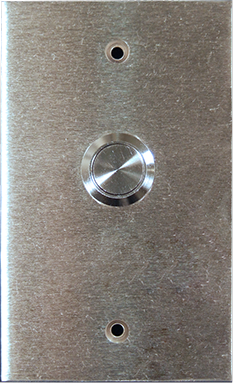 TPB • TPH • TPK
Series
STAINLESS STEEL PUSH BUTTON - KEY SWITCH
GENERAL OPTIONS:
Etech Stainless Steel Plates and Switches are available with custom engraving, 3-position keyswitches (many models), key removal options, rounded plate corners and additional switches and/or LED's - Please call to discuss your project's needs
Call for pricing on the following:
TPB-1/11-22-M-RND
TPB-1/14-22-M-RND
TPM-1/14-40-A
TPK-1/14-19-A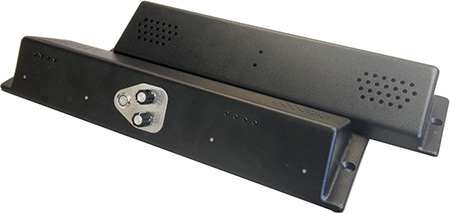 JUST-TALK
Duplex Talk Through Communicator
The JUST-TALK Duplex Talk Through Communicator is designed for visitation booths, control room to corridor, and other applications requiring communications through a security glass partition or wall. The system consists of a pair of identical units, typically one on either side of a viewing window or wall. Providing full duplex two-way communication without feedback. Each pair of units is tuned to the installed location environment. The result is very natural hands free communication.
Additional Information JustTalk
Additional Information JUST TALK HANDSET ADA COMPLIANT
Additional Information Technical Details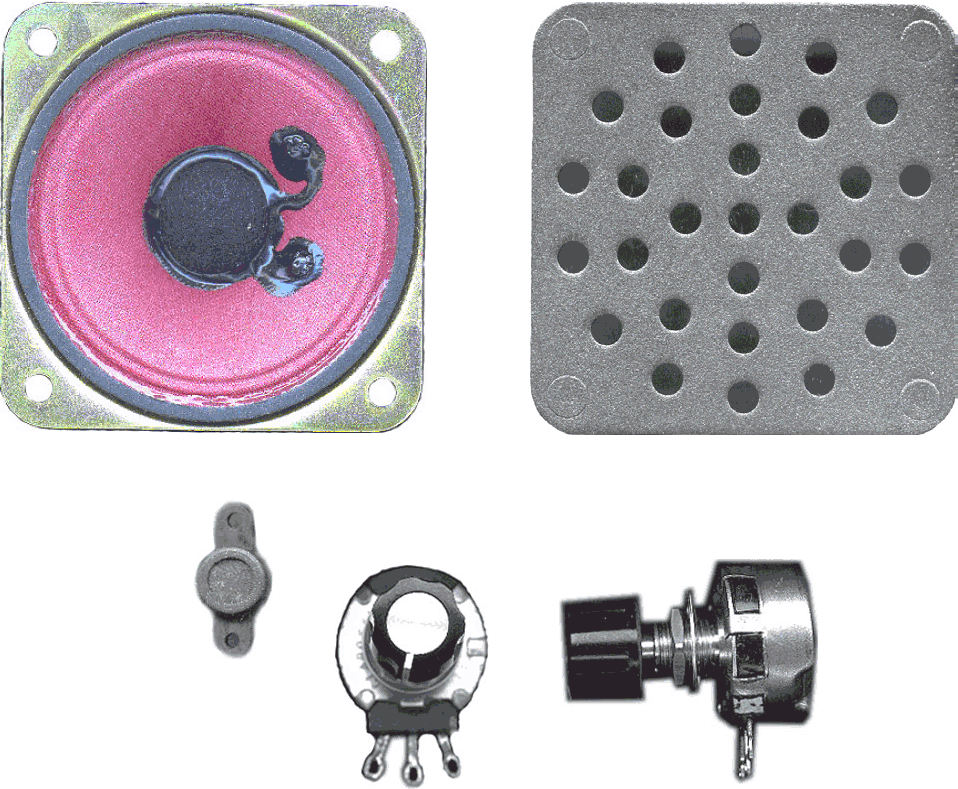 CP-100 Series
Control Panel Kits
The control panel kits compliment the HC-0826 Intercom Amplifier and may also be used with other manufacturers amplifiers. Additional Information (PDF)
Models:
CP105 - 45 ohm speaker, electret microphone, 500 ohm volume potentiometer with knob.
CP106 - 8 ohm speaker, electret microphone, 100 ohm volume potentiometer with knob.
GRILLE-PNL - Grille for 2.5" diameter speaker (optional)
TPB-037 - Stainless steel pushbutton (optional-talk/listen typical)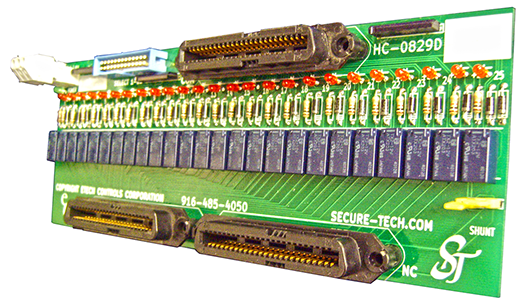 HC-0829
The HC-0829
Telephone Disconnect

module typically connects or disconnects pay telephone audio lines, either by individual pairs or in 25 pair cable groups. Telephone companies require that both sides of the audio line be switched when selecting a line on or off. This product performs this switching function with a high quality two pole audio relay.(RVDC). Relays are 12 VDC.
PN: HC-0829D-12V-IND-NCNO (shown)
Models:
HC-0829D - Group and individual disconnects
HC-0829-G - Group disconnect only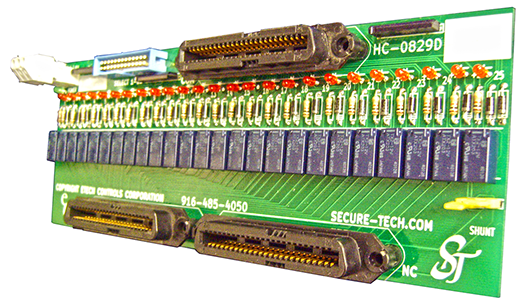 • 25 SUPERVISORY CONTACTS OUT
• N.O. AND N.C. TEL LINE OUTPUTS
• A/B SWITCH - CAN TRANSFER ALL 25 PAIRS
• HIGH QUALITY AUDIO SWITCHING RELAYS
• INDIVIDUAL OR 25 PAIR SWITCHING
• RED "SELECT ALL" STATUS LED
• GREEN POWER STATUS LED
• LINE 25 SHUNT SELECTION
• 25 LINE STATUS RED LEDS
HC-0829-SUP
TELEPHONE DISCONNECT -w- SUPERVISION
(Federal Standard)
FUNCTIONAL DESCRIPTION:
The HC-0829-SUP Telephone Disconnect Module with Supervision provides the ability to connect or disconnect telephone audio lines, either individually or in 25 pair cable groups. Telephone companies require that both sides of the audio line be switched when selecting a line on or off. This product performs this switching function with high quality two pole audio relays.
MODELS:
HC-0829-AA-xx Group and Individual Control
HC-0829-AB-xx Group Control Only
HC-0829-SUP-xx Supervisory with Group & Individual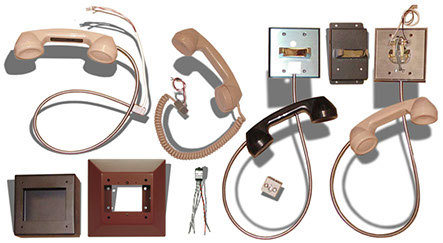 TELEPHONE VISITATION INTERCOM
TELEPHONE HANDSETS, WALL PLATES, BASES, AND BACKBOXES
FEATURES:
• FOR VISITATION OR INTERCOM SYSTEMS
• 500 SERIES HANDSETS W/SEALED CAPS OR SET-SCREWS OPTIONAL
• CARBON OR DYNAMIC TRANSMITTERS WITH OR WITHOUT HOOKSWITCH
• DETENTION GRADE ASSEMBLY ARMORED CABLE (CUSTOM LENGTHS) EXCLUSIVE CABLE MOUNTING BLOCKSTEEL  LANYARD
• STAINLESS STEEL WALL PLATES
• CHROME HANGERS - DPDT OR 4PDT
• HANDSET POWER AMPLIFIED OPTION
• RETRO SURFACE SECURITY BACKBOXES
• 2 YEAR WARRANTY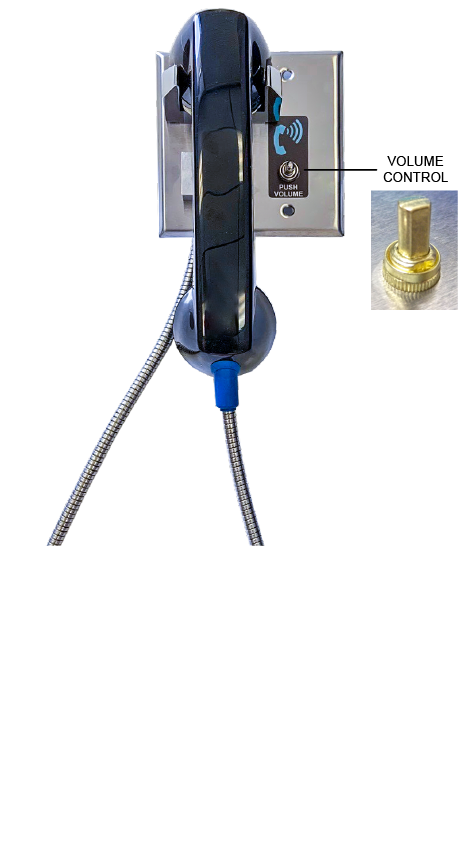 T-1-PB-VCH
SECURE-TECH #T-1-PB-VCH
VISITATION HANDSET WITH
4-LEVEL PUSHBUTTON
VOLUME CONTROL
FEATURES:
• Armored Handset & 32" Armored Cord with Steel Lanyard
- Receiver is Hearing Aid Compatible. (Equipped with Blue Handset Grommet)
• ADA Compliant, 20db min. gain, 4-Level Volume Control
• Integral Record Output with Adjustable Level
• Stainless Steel Plate
• Impact Resistant Handset
• Low operational force
• No pinching or twisting required (ADA)
• Simple operation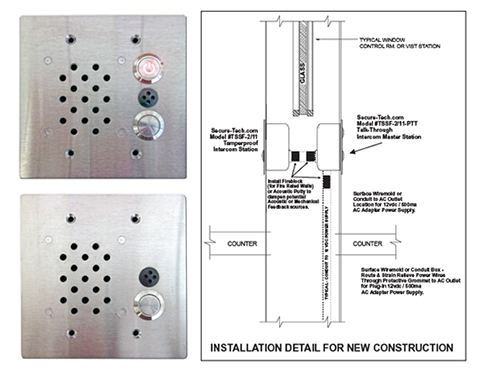 ST-IC-PTT
PHARMACY WINDOW, TALK-THROUGH COMMUNICATOR
The Secure-Tech.com brand, "PTT" Series, Pharmacy Window Talk-Through Communicator, is a compact, high security 2-way Intercom System that is based upon heavyduty, detention grade 11 gauge Stainless Steel Staff and Master Station assemblies.